Construction of Evandy's Boatel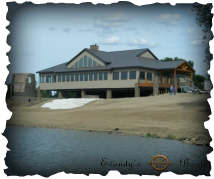 Construction of Evandy's Boatel has been a process unlike any other and without the drive and determination of the Evandy's management team, the completion of a project this size would not have been possible. The dream of rebuilding the Boatel began in 2007 when a limited liability company was formed between Mr. Eric VanGundy of Chapin and Mr. & Mrs. Charlie and Nancy Evans of Winchester. The business partners realized the need for a great family dining establishment along the Illinois River that would also provide jobs to the local communities.
During the initial planning of the restaurant, the owners encountered many roadblocks ahead. In order to rebuild the Boatel, the partners had to have the approval of many Federal and State regulatory agencies just to construct the restaurant on the river side of the levee. This required the work of many skilled architects, engineers and builders in order to comply with strict guidelines while ensuring construction of a one of a kind, state of the art restaurant.
The new restaurant had to be constructed in such a way that the floor of the structure must be above the 100 year flood plain, commonly known as the Flood of 1993 river levels. This required the restaurant to be built on 27 steel pilings which support the entire restaurant. Each piling is 14" in diameter and 60' in length.
View our construction photo album...Click Here
---